G. Randle Ackerman (1951)
Soccer, Basketball & Baseball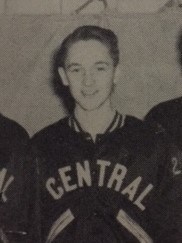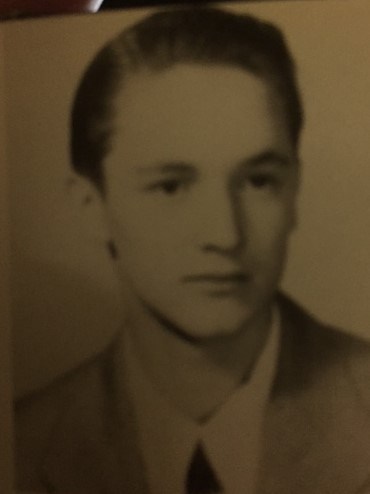 While at Pennington High School, Randy was a multi-sport athlete, playing soccer, basketball, and baseball, and accumulating twelve varsity letters. In addition to his outstanding athletic achievements, Randy was also President of his class in 1950 and 1951.
Upon graduation from Pennington, Randy went on to earn eleven varsity letters at Trenton State College (four in basketball, four in baseball, one in tennis and two in soccer) while earning a B.A. in Physical Education.
Randy worked for the Northern Burlington School District in the 1960s. In his spare time, Randy was a basketball referee and was soon to be regarded as one of the top basketball officials in the state. He officiated both high school and collegiate basketball and as a Division I referee. Randy worked games throughout the East Coast including such venues as Madison Square Garden and the Palestra.
Randy was the Athletic Director for Hopewell Valley CHS from 1972-1980. During this time, Randy was instrumental in creating the Colonial Valley Conference in Mercer County. He was especially proud of the fact that new sports were added for females during this time period including interscholastic teams for tennis, swimming, softball, cross-country, and soccer. In addition to his duties as Athletic Director, Randy was also the Physical Education Department Supervisor, Adult School Coordinator and was involved in coordinating busing for the district.
In 1980 Randy gave up his many duties at Hopewell Valley except for teaching so that he could stay in touch with the athletic careers of his two children who were now playing on the collegiate level. Randy always considered his family first and made a career sacrifice so that his family could benefit from his presence at their games.
Randy played a major role in the athletic history of Hopewell Valley, both as an athlete and as an administrator. Unfortunately for the Hopewell Valley Community, Randy passed away prematurely in 1988. In 1989 the Hopewell Valley Central High School Gymnasium was dedicated in his honor.
Arthur Dick Clark (1936)
Football, Soccer, Basketball & Baseball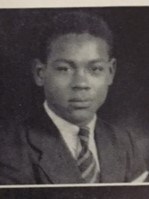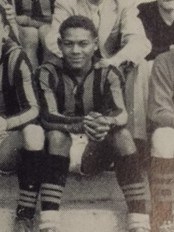 Dick Clark was awarded eight varsity letters while attending Pennington Central High School. He earned one in football, three in soccer, two in basketball and two in baseball. No individual honors were given during this decade. He played on Pennington's last football team (which was dropped due to lack of funding) and the first-ever soccer team. He was coached by Mr. Barton who mentored all three sports at the time and brought new coaching techniques with him. According to Clark, the soccer team did not touch a soccer ball for the first two weeks of the season as they worked on calisthenics and getting in shape. During the basketball season, the coach actually played with the team during practices to help them learn the techniques of the sport.
Dick had a very successful career, working 37 years with Howe Nurseries in Pennington, before forming his own landscaping business. Over the years, Dick Clark has been active in sports as a Little League and Babe Ruth baseball coach. He also served on the Board of Directors of the YMCA and served on the Hopewell Valley Board of Education for five years. He was the first president of the Association for Economic Opportunity in Hopewell Valley.
By spending a short amount of time with Dick Clark it is easy to tell that he has achieved "All-Star" status as a father of six, a grandfather of thirteen and a great grandfather of eleven. Arthur "Dick" Clark has honored his school, his family and his community.
Steve Braun (1966)
Cross Country, Basketball and Baseball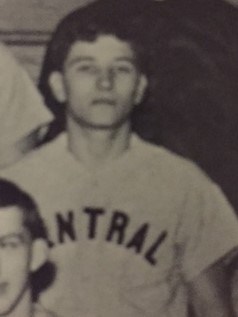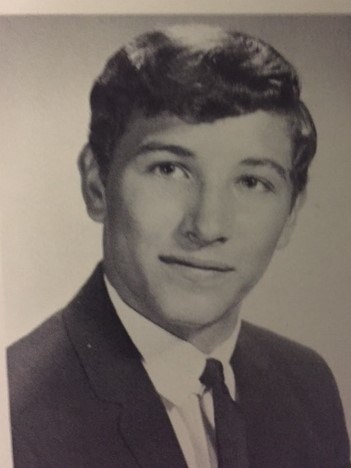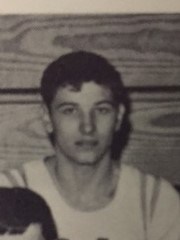 Steve "Tooter" Braun was a varsity letter winner eleven times while at Hopewell Valley CHS. He ran on the varsity cross-country team for four years, played on the varsity basketball team for three years and played varsity baseball for four years. He was captain of the baseball team his senior year on a team that was 13-6-1, and earned a second-place finish in the Delaware Valley League. According to the 1966 Centralogue, clutch hitting by Braun was a key factor in producing their successful season.
Upon graduation from Hopewell, Steve was drafted by the Minnesota Twins where he played two years before being drafted by Uncle Sam. He was able to continue his baseball career by playing on the All-Army Baseball Team (and basketball team) for two years in Europe. After completing his service, Steve once again returned to the Minnesota Twins to play in their AA League. In 1971, he was called up to the majors and was voted the League's Top Rookie Third Baseman as a member of the Twins.
Steve went off to play professional baseball for fifteen years. Some of the highlights of his career included playing for the Kansas City Royals who were the American League Champions in 1980. Steve also played for the 1982 World Champion St. Louis Cardinals (batting .500 in the series) and on their 1985 National League Championship Team as well. On both the Cardinals and the Royals, Steve was the team leader in pinch hits and holds records for both ball clubs. He is currently ranked 9th on the All-Time Pinch Hit List for the major leagues.
When his playing career ended, Steve continued to be a valuable asset to major league baseball as a hitting instructor for the Cardinals and as a hitting instructor in the minor leagues for the Boston Red Sox. For the past two seasons, we have been fortunate to see Steve right here in our backyard, as the hitting coach for the Trenton Thunder. Under his instruction, the Thunder led the league in hitting both of those years.
In 2001, Steve was in his tenth year with the Red Sox organization as he headed to Florida to coach their A-League Sarasota team as their head coach. He continues to remain in the game he has loved for his whole life.
Chet Snook (1969)
Soccer, Basketball & Baseball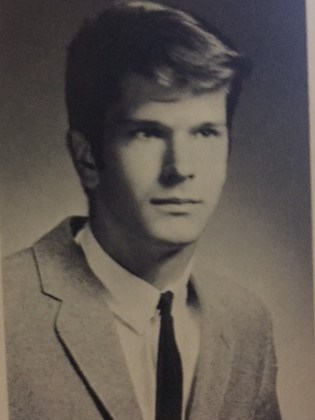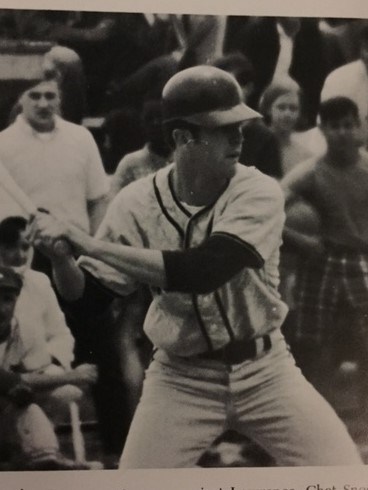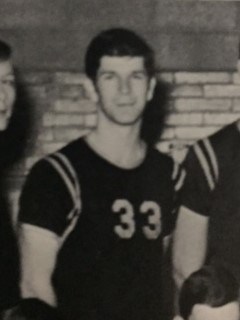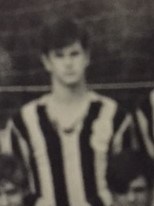 Chet was a varsity letter winner eight times at Hopewell Valley. He earned three letters on soccer, two in basketball and three in baseball. Chet captained the soccer team to a 10-3-3 finish during his senior year and was named to the 2nd team All-County and Honorable Mention All-State squad. Chet was also a member of the 1967 and 1968 baseball teams that won the League Championship two consecutive years and were Central Jersey Champions during his junior year. As a senior, Chet was the Captain of the baseball team. His career pitching record was 19-8 with a 0.87 ERA during his senior campaign. He was also a member of the 67-68 varsity basketball team that finished with a 19-5 record and was described by area newspapers as the best team in Hopewell Valley's history. They were Co-Champs of the mighty Delaware Valley League and the team scored over 100 points in a game four times during the season.
After graduating from Hopewell Valley, Chet went on to become a four-year starter on the Trenton State College baseball and soccer teams. He captained both teams during his junior and senior years and was named All-Conference Honorable Mention in 1973 for baseball and Outstanding College Athlete in 1972 and 1973. Chet earned his B.S. in Health and Physical Education in 1973 and received his Master's Degree in 1978. He was elected into the Trenton State College Hall of Fame in 1997.
Chet went on to teach and coach at Ewing High School. He received the Distinguished Teacher of the Year Governor's Recognition Award for 1988-1989. He coached freshman baseball for twenty years, freshman/varsity soccer for twenty-seven years and was named Coach of the Year in 1989. He went on to become Athletic Director at Ewing High School where he finished out his career and retired.
Debbie Ryan (1971)
Field Hockey & Basketball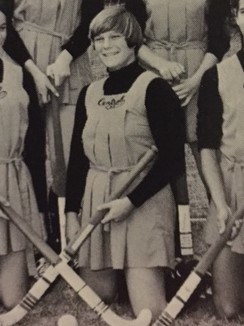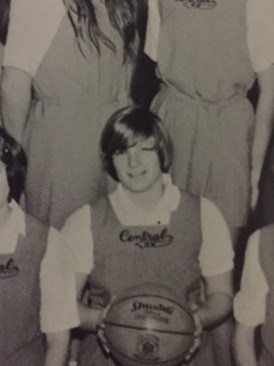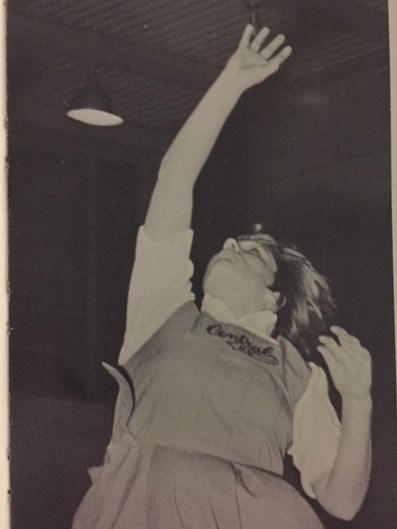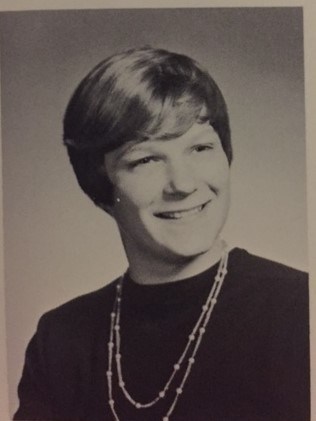 Debbie received six varsity letters at Hopewell Valley during a time when field hockey and basketball were the only two female sports offered and county/state recognition did not exist for female athletes. She played varsity field hockey for three years and was the MVP and Captain during her senior year. She also played varsity basketball for three years and was the Co-Captain of the team. On the court, Debbie averaged 13 points per game as a sophomore and 18 points per game during her senior year. Debbie led the Hopewell Valley Girls' Basketball team to a three-year record of 23 wins and 11 losses. She was a member of the G.A.L. (Girls Athletic League) for four years, Varsity Club for three years and served on the New School Physical Education Planning Committee during her senior year. Debbie also shared her school spirit as the Hopewell Valley High School "Bulldog" mascot during her senior year.
Upon graduation, Debbie attended Ursinus College where she played varsity field hockey, basketball, and tennis from 1971-1975. She soon became the Graduate Assistant Coach for field hockey and basketball for two years. In 1977, Debbie was named head coach for the University of Virginia's Women's Basketball Team where she has amassed a 74.2% winning record.
Some of Debbie's career highlights include 12 ACC regular-season championships, 17 consecutive NCAA Tournament appearances, 12 NCAA Sweet Sixteens, 7 NCAA Elite Eights, and 3 Final Fours. She was named Naismith National Coach of the Year in 1991 and the ACC Coach of the Year 6 times.
Harold Driver (1974)
Soccer, Basketball & Track and Field
Harold received varsity letters in soccer, basketball and track and field. On the basketball court, Harold averaged 18.6 points per game and 11 rebounds per game as a sophomore. By the time he was a junior, Harold was already the school's all-time leading scorer with 932 career points. He averaged 19.2 points per game and pulled in 12.3 rebounds per game. During his senior year, Harold led the Hopewell Valley Varsity Basketball Team to a record of 18-7 and a second-place finish in the Delaware Valley League. He became the all-time Mercer County public school scoring champion with 1420 points. He was named to the 1st team All-League, All-Suburban, and All-Area teams. To this day, Harold still holds the record for career points by a Hopewell Valley male basketball player.
In track and field, Harold's record long jump of 22'4 set in 1974 still holds as the longest jump in the Hopewell Valley record books. As a senior, Harold was a member of the varsity soccer team that posted a 12-6 record and had a semi-final finish in the State Group II Tournament; the best finish in the school's history to date.
Upon graduation, Harold attended Quinnipiac College. He played professional basketball overseas for six years in the Philippines and South America.
With a background in computer operations, Harold worked for the Mobil Corporation from 1987-1992 when they vacated their Pennington facility. Harold then went to work with the firm of Goldman-Sachs, where he worked in their computer systems administration department.
Val Ackerman (1977)
Field Hockey, Basketball & Track and Field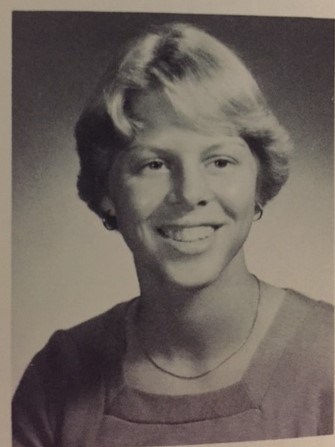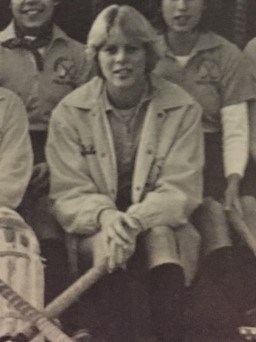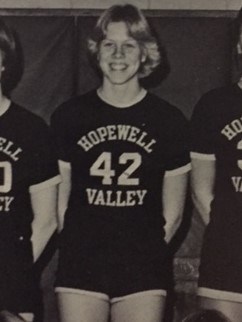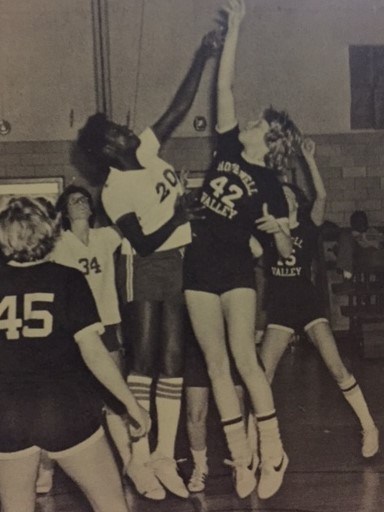 During her career at Hopewell Valley, Val Ackerman won nine varsity letters; four in basketball, three in field hockey and two in track and field. She was captain of the Bulldog basketball and field hockey teams. In track, she was a County Champion in the 440-yard run. Infield hockey, Val was twice named to All-County teams, twice to All-Area teams and once named to an All-State team (honorable mention). Additionally, she was named to the Trentonian's All-1970 field hockey team. The Bulldog field hockey teams won multiple CVC Championships and one Central Jersey title during Val's career.
Val's most successful sport at Hopewell Valley was basketball in which she was named All-County three times and All-Area three times. She is the most prolific scorer in the history of Hopewell Valley Basketball (boys or girls) having scored 1466 points during her career. During her junior season at Hopewell, Val averaged 19.4 points per game (led Mercer County) and led the team to a 24-3 record.
Upon graduation, Val attended the University of Virginia where she earned four varsity letters in basketball. She was a three-time captain and a two time Academic All American. She was the first woman to score more than 1,000 points at UVA and became the leading scorer in the history of UVA.
After playing professional basketball in France, Val joined the National Basketball Association as a staff attorney in 1988. In 1996, she became the President of the newly formed WNBA. Val was named by "Sports Business Journal" as the 1998 Female Sports Executive of the Year, and by "Women's Sports and Fitness Magazine" as one of the twenty most influential women in sports. In 1997, Val was named the University of Virginia Distinguished Alumnus of the Year and in 1998 was recognized by the New Jersey Sportswriters Association as their Executive of the Year. She serves on the Board of Trustees of the Basketball Hall of Fame and she is an officer of USA Basketball. In 1997, Val was the Honoree of the Trenton Select Committee and in 1999 was inducted into the NJSIAA Hall of Fame.
Val currently resides in New York City with her husband Charlie and two daughters, Emily and Sally.
Holly Trumpowicz (1982)
Field Hockey, Basketball & Softball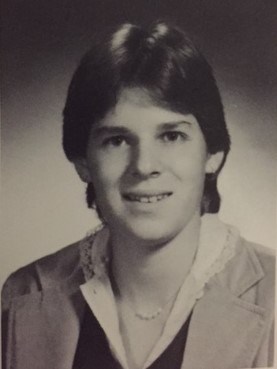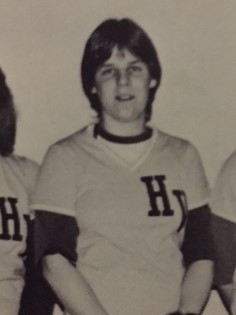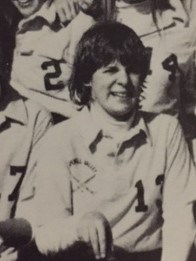 Holly Trumpowicz received eight varsity letters during her Hopewell Valley athletic career; three in field hockey, one in basketball and four in softball. During her junior year, Holly led the CVC in scoring with 16 goals. She was named to the All-County and All-CVC field hockey teams and received an Honorable Mention on the North Jersey Field Hockey Association Group II All-Star Team. She was also named to the 3rd team All-Groups. As a senior, Holly captained the varsity field hockey team to a 21-1 record. They were 1st place in the CVC, 1st place in the Mercer County Tournament and Central Jersey Group II Champions. With her 22 goals, Holly was named to the 1st team All-CVC, All-County, and All-Area teams as well as the 1st team North Jersey All-Stars Group II and 1st team All-State, All-Groups team. While on the field hockey team, the Bulldogs won three consecutive CVC Championships. On the softball field, Holly was named to the All-County teams during her sophomore, junior and senior years.
After graduating from Hopewell Valley, Holly went on to a successful field hockey career at Trenton State College. While at TSC, the field hockey team won four consecutive regional titles, placed 2nd and 3rd in the NCAA Division III final four and were the NCAA Div. III National Champions twice. Holly was selected as an NCAA All-American in 1984 and 1985 and is the third leading scorer in field hockey at TSC.
Holly graduated in 1986 with a degree in Business Administration. She continued her education at the Culinary Institute of America in New York. She is presently the owner and Executive Chef of an upscale corporate dining company called the "Gallery Cafe" with locations throughout the Princeton area.
Bonnie Suydam (1984)
Soccer, Basketball & Softball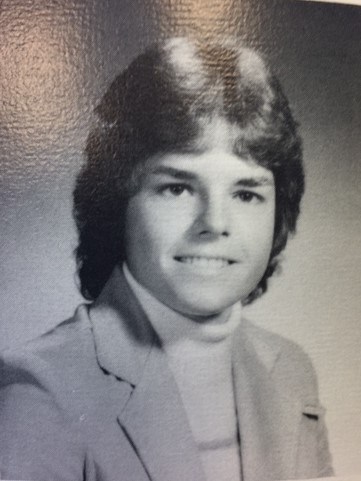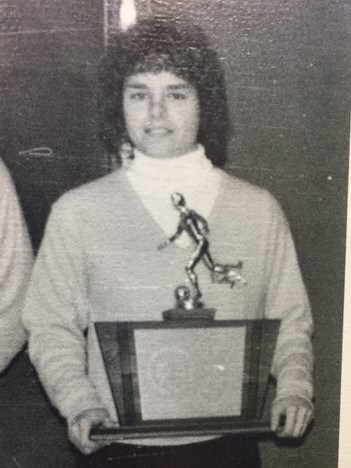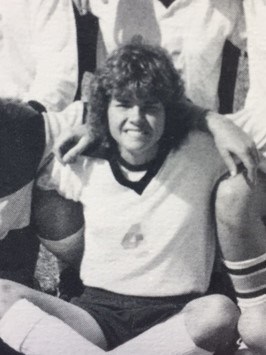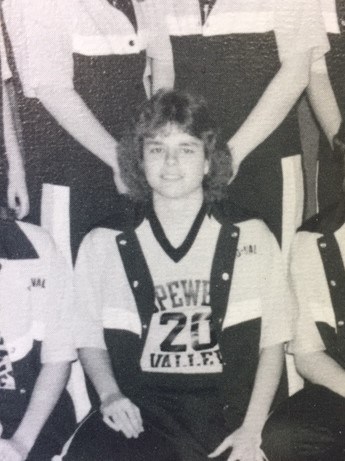 While attending Hopewell Valley CHS, Bonnie Suydam received eleven varsity letters; four in soccer, three in basketball and four in softball. She was captain of the 1982 and 1983 NJSIAA South Jersey B Championship Soccer Teams. Bonnie received All-County recognition in soccer three consecutive years as she led the team in scoring during this time period. One of Bonnie's highlights on the soccer field was scoring all four goals in a 4-0 victory over Burlington City in the 1983 Sectional Championship. As a senior, she was named to the All-State 2nd Team as well.
On the softball field, Bonnie led the team in batting average and stolen bases for four straight years while Hopewell's Team went on to win four consecutive CVC Championships. She was named to the All-County Softball Team three times, Captained the team as a senior and was once again named to an All-State team for the second time in her senior year.
Bonnie received a full soccer scholarship to attend Springfield College where she continued her athletic career which was just as amazing as her high school career. Bonnie led the Springfield Soccer Team in both scoring and assists during her junior and senior years. She was also an Academic All-American and named to the 1st team Northeast 10 Conference All-Star Team both of these years.
Bonnie also played softball in college and as a freshman and sophomore, Bonnie was voted the MVP as the catcher on the college's softball team. She led the team in both stolen bases and batting average during those two years.
Bonnie currently resides in Lawrenceville, NJ and is the Student Services Coordinator at the Titusville Academy. She also is the sports specialist during the summer months for the Rambling Pines Day Camp.
Tim McDougal (1985)
Soccer, Ice Hockey & Tennis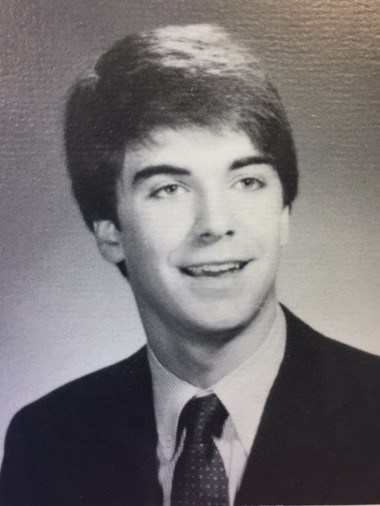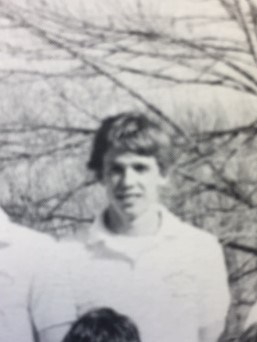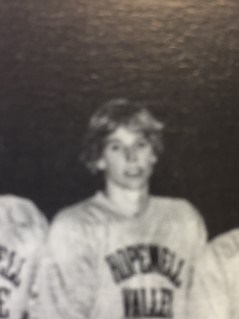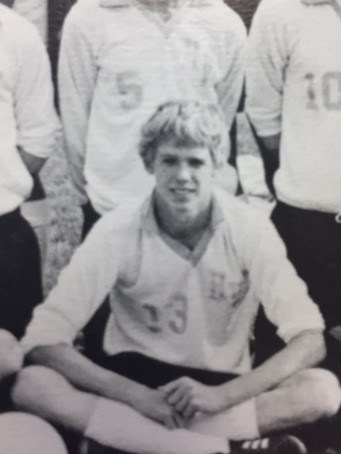 Tim received nine varsity letters at Hopewell Valley Central High School. Tim played on the varsity soccer team for three years and was named to the All-CVC teams in each of those years. As a senior, Tim was Co-MVP on a team that was 15-5-2, CVC Champs and Central Jersey Group II finalists. He was named to the 1st team All-CVC, 1st team All-County and 2nd team All-State soccer squads.
During Tim's junior year, varsity ice hockey became an interscholastic sport for the first time at Hopewell Valley. Tim played varsity ice hockey during his junior year and was named as the best offensive player for the Bulldogs during that season. As a senior, Tim was a member of a team that was 11-7-2 in only its second year as a varsity sport and was named to the All-County 1st team.
Tim also received four varsity letters as a tennis player for Hopewell Valley. During his junior season, the Bulldogs had a 9-1 record in the CVC (one of their best) to place second behind the always powerful Princeton High School squad. He was named to the All-CVC 2nd team for first doubles.
As a senior at Hopewell Valley, Tim was the captain on all three teams of which he was a member.
Upon graduation, Tim continued his soccer career at the University of Pennsylvania where he was a four-year starter and was named to the All-Ivy 2nd Team.
Tim currently lives in Chatham, New Jersey where he is senior vice president for an insurance broker, Marsh & McLennan.
Mark Gola (1990)
Soccer & Baseball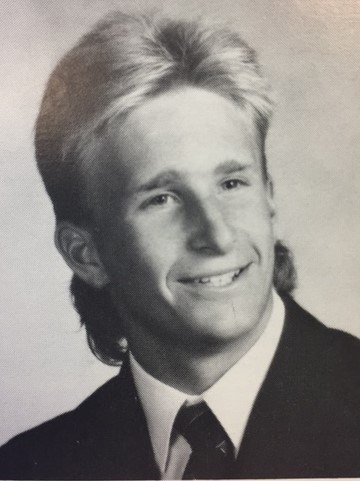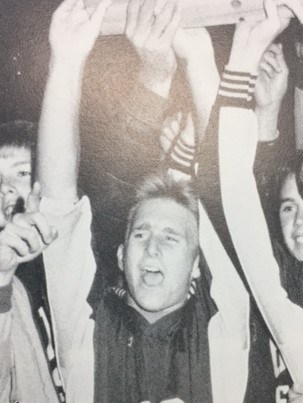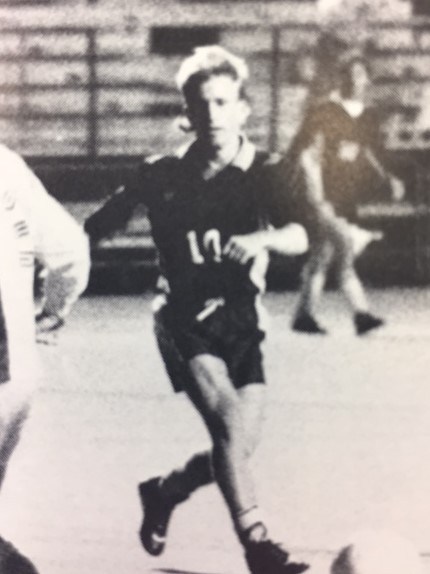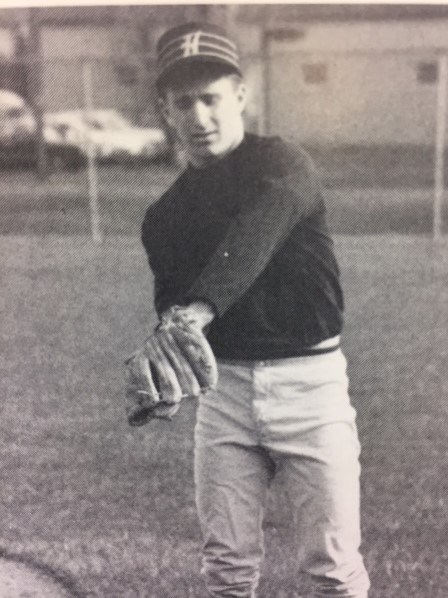 Mark was a varsity letter winner at Hopewell Valley seven times. As a soccer player, Mark played on the varsity team for three years. During those three years, the Bulldog soccer team won the Colonial Valley Conference Championship three times, won a Central Jersey Group II Sectional title and made three trips to the State Tournament that culminated in a State Championship during his senior year. Mark was named to the All-County team three times and the All-Area and All-State squads as a senior.
On the baseball field, Mark was a varsity player all four years on teams that qualified for the State Tournament action in each of those seasons. As a sophomore, Mark had a .451 batting average which was 2nd in the county and was named to the All-County 1st team. During his junior year, Mark batted .387, was named to the All-County 1st team and was also selected as a player on the prestigious Carpenter Cup Team. During his senior season, Mark was named to the All-County, All-Area and All-State teams. He was among only five players from Mercer County to be selected for the New Jersey All-Star Game. As a member of the Hopewell Valley varsity baseball team, Mark set a school record of 110 career hits.
After graduating from Hopewell Valley, Mark continued his baseball career at Rider University. As a four year starter, Mark played on Rider teams that qualified for three College World Series. They won the East Coast Conference in 1992 and the NEC Conference Championships in 1994. As a senior captain, Mark was named the team MVP, an All-Conference outfielder, an All-State Player, and a Northeast Regional All-American.
Mark returned to Hopewell Valley in 1994 to coach freshman soccer for two seasons. He was also the Varsity Baseball Assistant Coach in 1995 and 1996.
Mark went on to coach baseball at Rider as the Broncs' Assistant Baseball Coach. In addition to his coaching responsibilities, Mark also authored three books: Louisville Slugger Ultimate Book of Hitting, Louisville Slugger Complete Book of Pitching and Louisville Slugger Complete Book of Hitting, Faults, and fixes. Mark is currently an Assistant Director of Athletics for Communication at The College of New Jersey.
Mandi Pietrowicz (1992)
Field Hockey, Winter Track and Spring Track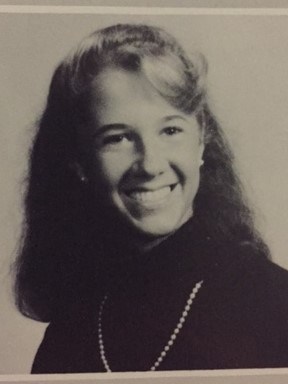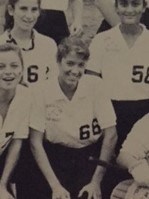 Mandi Pietrowicz received varsity letters in field hockey, winter track, and spring track while at Hopewell Valley CHS. As a field hockey player, Mandi was named to the 1st team All-County team as a junior and a senior. During her senior year, Mandi captained the Bulldog team to a record of 13-0 in league play, a 17-2-1 overall record and a CVC Championship. In addition, they were the Central Jersey Group II Finalists. She was named as the Defensive MVP, 1st team All-County and Player of the Year by the Trentonian. Along with those honors, Mandi was named to the 1st team All-County and 1st team All-Area by the Trenton Times. The Star-Ledger named her to the All-State. All-Groups team.
As a member of the winter track team, Mandi was the hurdles Champion in Mercer County during the 1988-1989 season and the 1991-1992 season. She was also the 400-meter hurdle champion for both Mercer County and the NJSIAA Group II as well as a member of the 1990-1991 Group II Champion Relay Team. In the spring, Mandi once again ran for the Bulldogs where she became the 400-meter hurdles record holder for Hopewell Valley and placed in the top 5 in the county and the state in this event. She was the team's MVP all four years on her way to becoming Hopewell Valley's best hurdler ever.
Upon graduation, Mandi attended the University of Richmond where she played on the varsity field hockey team all four years and captained the team during her senior year.
Mandi currently resides in Unionville, Pennsylvania with her husband where she is a health and physical education teacher.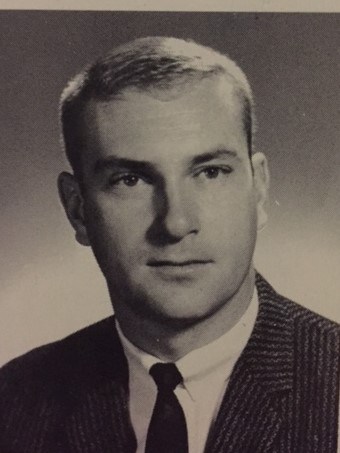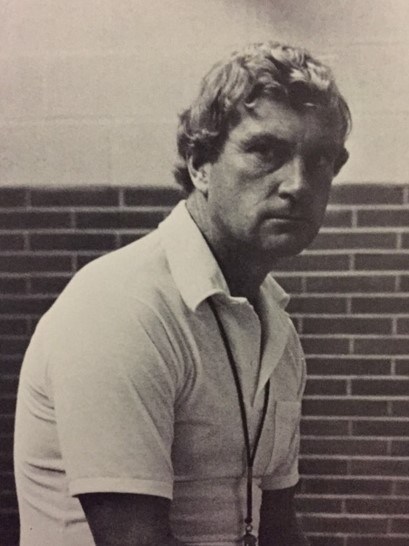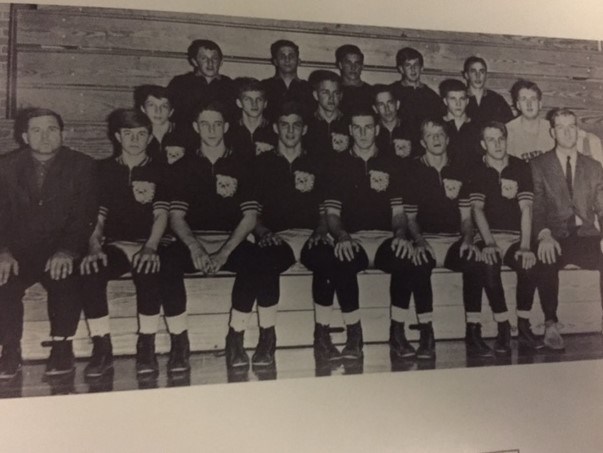 Stan Davis came to Hopewell Valley in 1964 to begin both teaching and coaching career that would span four decades. Prior to his tenure at Hopewell Valley, Stan was in the United States Army from 1955 to 1958, where he played football and baseball and was a member of the U.S. Army's Ski Patrol. From 1958-1961 he played professional baseball with the Cincinnati Reds in the New York-Penn League, the Florida State League and the Eastern League.
Stan taught Physical Education at Hopewell Valley for 36 years. During this time he also coached varsity baseball (33 years), junior varsity and varsity soccer and varsity wrestling. From 1964-1972, Hopewell Valley teams were a dominant force in the Delaware Valley League in which Stan coached Hopewell teams to seven league titles. In 1968, the varsity squad won the Central Jersey Tournament Championship which was the highest level of play on the state level at the time. During his tenure, four Hopewell Valley players went on to play professional baseball.
On the soccer field, Stan was named Coach of the Year in 1987, 1989 and 1999. His teams won six conference championships, three Central Jersey Group II Championships and were in the State Finals three times, winning the coveted Group II State Championship in 1989.
In the spring of 2000, Stan retired from both coaching and teaching, leaving behind a career that will be hard to duplicate.
Grace Barnhart (1941-1979)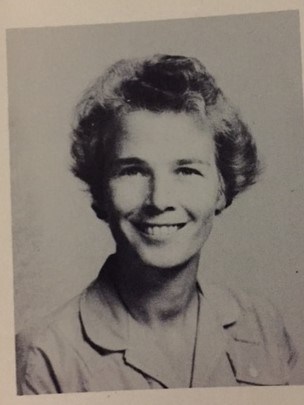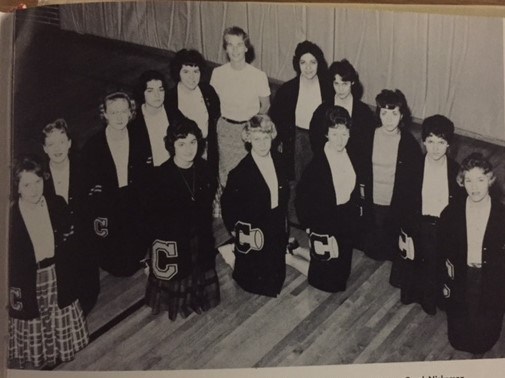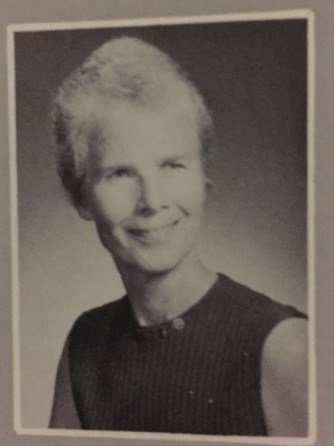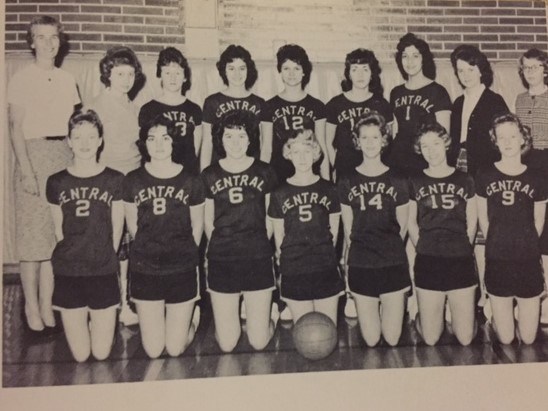 Grace Barnhart began her teaching career in the Hopewell Valley School system as a substitute teacher during the 1940-1941 school year. She became a full-time faculty member in 1941 at the Harbourton School and started teaching at the high school in the fall of 1944 where she taught for another 35 years. She was certified to teach psychology, mathematics, English, world history, science, driver education and was also certified in guidance.
In addition to her teaching, Grace served in many other capacities at Hopewell Valley ass well. She was cheerleader advisor for 27 years, Director of Intramural's for 14 years, advisor of the modern dance club, cross-country skiing club, girls tumbling club, officials club, and athletic association for many years, and served as the Girls Athletic League (G.A.L.) Advisor for 20 years. She coached the girl's basketball team from 1949-1955 as an intramural sport and from 1955-1961 as a varsity sport. She also coached field hockey from 1949-1961 as a club sport before it received varsity status in 1962.
It was Grace Barnhart's dedication to providing females the opportunity to participate in sports activities that laid the groundwork for the early success of the girl's athletic program at Hopewell Valley.
Grace passed on in the spring of 2000, leaving behind scores of students. athletes and co-workers that will always have fond memories of being taught, coached and mentored by her. She left behind a legacy of creating athletic opportunities for a multitude of female athletes at Hopewell Valley CHS.
Girls Soccer (1982-1983)
The 1982 girl's soccer team made its mark in Hopewell Valley history by becoming the first female team to win a State Championship. The 1983 team also created history when they became the first team, male or female, to win back to back State Championships. These accomplishments have landed them the distinct honor of being the first team inducted into the Hopewell Valley Hall of Fame.
The girl's soccer program began in 1979 and within four years it was one of the top programs in the county and state. Several players from the inaugural team that went 2-10 were on the first State Championship Team. Both of these teams were very cohesive units who had a great deal of fun, not only winning but also competing with each other. The classic warm-up for these teams was that they did the "Hokey-Pokey" before each game. Opponents thought they were crazy and silly but they had a great deal of fun and still won. Unlike many teams, each of these two teams had 22 members. Every member of the team played in every game during the season, including the state finals.
The amazing thing about these two teams is that they won their state titles when New Jersey had all schools separated into only two divisions; today they are divided into six divisions.
The following players were members of the 1982 Team: 15-5-1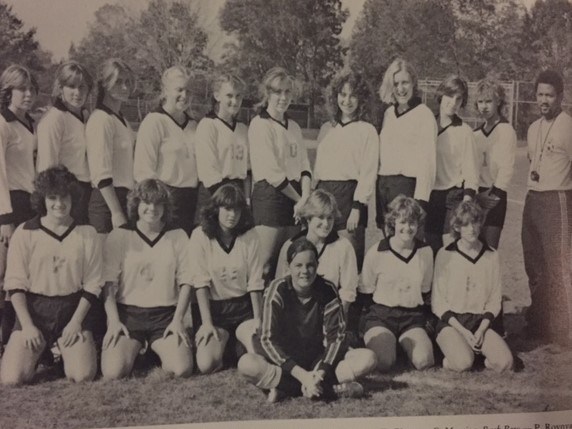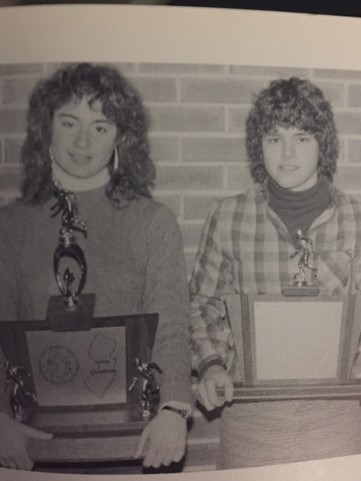 Kari Spaeth, Byrdie Calkin, Bonnie Suydam (Co-Captain), Gwen Flanders, Cherie Waters, Katie Gleeson, Chris Messier, Patty Rovnyak, Colleen MacCotter, Tina Gallagher, Kristin Carlson, Stacey Noonan, Karen Wines, Debbie Smith (Co-Captain), Jessica Seesel, Becca Grossman, Chris Turner, JoAnne Astalosh, Sharon Lewis, and Joan Ziegler. *Denotes players on both the 1982 & 1983 teams.
Coach: Jim Loper (Coach of the Year), Asst. Coach: Tom Ponting
In addition to the *players above, these players were also members of the 1983 team: 12-4-2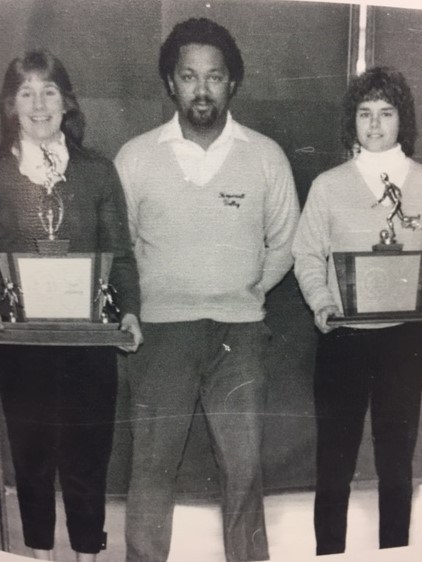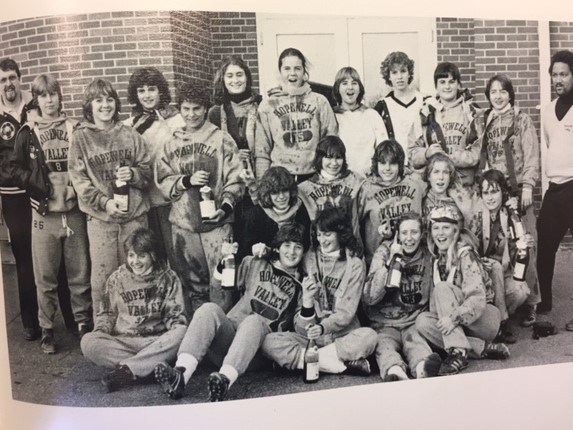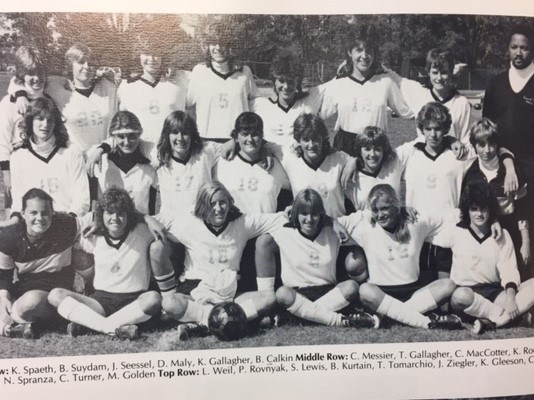 Debbie Maly, Kelly Gallagher, Kim Roche, Colleen Ragolia, Nancy Spanza, Marla Golden, Liz Weil, Betsy Kurtain, Terry Tomarchio, and Stacy Palagano.
Coach: Jim Loper, Asst. Coach: Tom Ponting