Since 2010, the Hopewell Valley Regional School District has run an annual Election Day Textile Recycling Drive. The drive has grown every year and is greatly appreciated by Hopewell Valley residents.
We have been asked many times if we could collect throughout the year. In response, we are pleased to announce our partnership with Wearable Collections, a textile recycling company. Outdoor collection bins maintained by Wearable Collections are now available at all Hopewell Valley schools.
Please read the FAQ section below for more information. You can also view and share our flyer by visiting any HVRSD school's Virtual Backpack webpage. If you have further questions, please post or message to our Facebook page at www.facebook.com/HopewellTextiles or email HopewellTextiles@gmail.com. Thank you for your interest and your support of the drive!
FREQUENTLY ASKED QUESTIONS
What exactly do you collect? Are there any textiles you don't accept?
We accept textiles including: clothing, sheets, blankets, towels, curtains, linens, scarves, etc. We also accept hats, gloves, shoes, belts, and handbags. All items must be dry, but stains and rips are no problem. Yes, we will take that towel your dog destroyed, and the holey sock with no mate! Sorry, we cannot accept carpeting, pillows, stuffed animals, or scrap fabrics.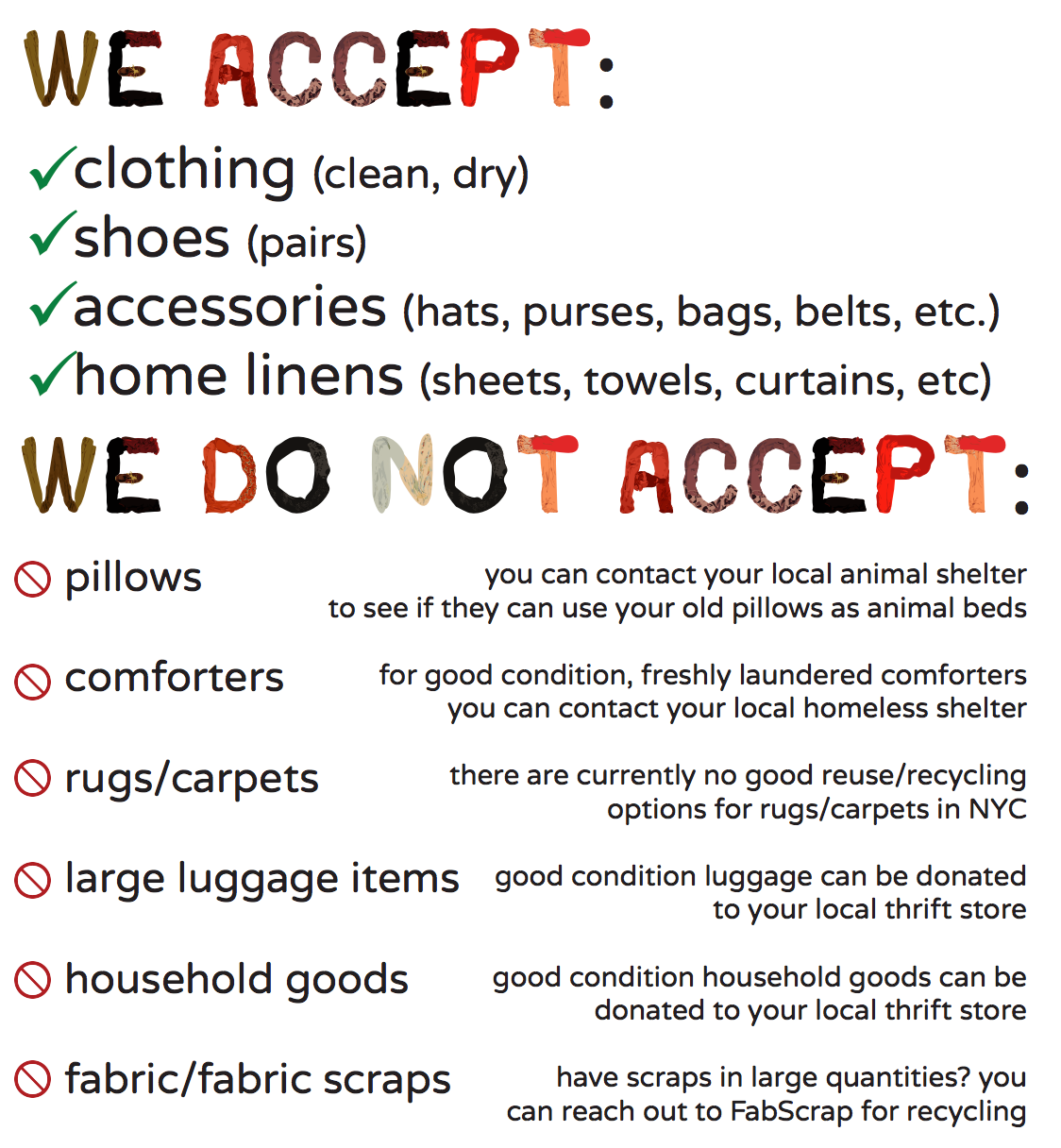 Where exactly are the bins located?
All six Hopewell Valley schools (Hopewell Elementary, Toll Gate Grammar, Bear Tavern Elementary, Stony Brook Elementary, Timberlane Middle School, and Hopewell Valley Central High School) have a readily visible outdoor bin on their property. Please click here for our detailed map with bin locations. The funds raised by each bin benefit the children of that school directly.
How does the drive raise money for the schools? What happens to the textiles?
We are working with Wearable Collections who pay us by the pound for all the items we collect. The clothing is brought to a facility where it is sorted into different grades: re-usable as second-hand clothing, wiping rags, and scrap that will be shredded for low-grade fiber products. The second-hand clothing will be shipped to emerging markets throughout the world, where it provides access to affordable and stylish fashion.
Wearable collections recycling rates are very consistent with the industry standard.
According to SMART (Secondary Materials and Recycled Textiles), industry-standard is the following:
45% is used as apparel which is exported to developing nations, where demand for secondhand clothing is particularly high

30% of recovered textiles become wiping rags for commercial and industrial purposes

20% is reprocessed into fibers for furniture stuffing, upholstery, insulation, soundproofing, carpet padding, building, and other materials

5% is unusable and not fit for recycling
Why is some of the clothing exported?
The US produces far more used clothing every year than we have a demand for. However, the demand in emerging markets overseas far outstrips the supply, so it makes more sense to export some of the clothing.
Why Recycle Textiles?
Watch the Wearable Collections 1 minute info video here
I already donate my used clothing to a local charity – what makes this program different?
If you are already donating your used clothing in good condition to a local charity in need, please continue to do so. However, as those groups are smaller and do not have the resources for sorting and recycling, they may not want your worn out, tattered & stained items — we do! So you can continue to give them your "best" — we are happy to take all that is left, and keep it out of landfills. You can be sure that everything you donate to our program will be put to its best possible use — be it a new dress for someone else, or in the case of your old ripped t-shirt, being used as a rag!
What happens to the money that is raised?
The funds raised by each bin go the PTO (Parent Teacher Organization) of that school. PTOs cover expenses such as field trips, assemblies, school gardens, science fairs, library books, some classroom supplies, playground and gym equipment, teacher appreciation events, special technology purchases, and other programs that enrich the educational experience for all students.
I am bringing a really large load – what should I do?
Our bins are 6 ft high x 4 ft square. If your load is too large to fit in a bin, you can break up your drop-offs over the course of a couple of weeks; or email HopewellTextiles@gmail.com to make arrangements. SpinGreen can come at any time to empty a bin or pick up an extra-large load.
Will you still host an Election Day Drive at polling places?
We held our FINAL Election Day Drive on Tuesday, November 4, 2014. Those textiles were sold to SpinGreen and processed in the same manner. The funds raised in the final Election Day drive were divided equally between the six Hopewell Valley PTOs.